Reading Time:
8
minutes
Most sex toys are designed either for men's anal pleasure or women's vaginal ones. The strap-on is the only one that can be used by both genres. Also called pegging, it can give intense orgasms. While buying such a sex toy, you'll be able, for once, to consider pleasure for two. Whether for anal sex for men or vaginal sex for women!
Facts
Let's start by attacking an all-too-familiar belief. Anal penetration is not exclusive to homosexual men. A recent survey has shown that 72% of French people declare having been sodomised. Anal sex is one of the forms of sexuality. Sex toy is an anal accessory (such as dong, dildo or plug) to enable the naughty ones to have pleasure. This is the purpose just like lingerie, remote control stimulator or even vibrating sex toy.
The second cliché that has to be fought is that female pleasure is only through vaginal penetration. If 2 women out of 3 declare having more satisfaction in a sexual act with penetration. 8 in 10 declare having more pleasure with the stimulation of their clitoris than with vaginal coitus. As far as anal sex is concerned, few of them – less than 2 in 5 – say they feel pleasure during anal penetration.
Last piece of advice for you, gentlemen. Watching your partner having some pleasure alone with a sex toy can be both exciting as well as frustrating. Some naughty males will consider a woman having pleasure with a vibrating silicone toy as the partial loss of their masculinity. This is a true mistake. Using a dildo isn't the same thing as a sexual relation with a lively and warm penis. Women can experience pleasure in many more ways than men can, that's just the way it is.
Let's face it, using an anal or vaginal sex toy is a particularly exciting show to watch whether you're a male or a female. You might as well enjoy it! It can even add a little spice to couples' play.
For what use?
If using a strap-on – also called a penis prosthesis – is easy to understand, its real purpose is left to the fertile imagination of the one who will be the new object of the penetration of this wearable sex:
The anal penetration of a man wishing to try this pleasure with a strap-on, called pegging
The game of humiliation of a man who will have to suck a realistic dildo
Vaginal coitus with a woman wishing to experience other sensations than with a dildo or a dong
Sodomy of a woman by another woman or by a man
Experiment double penetration, by using your penis and the strap-on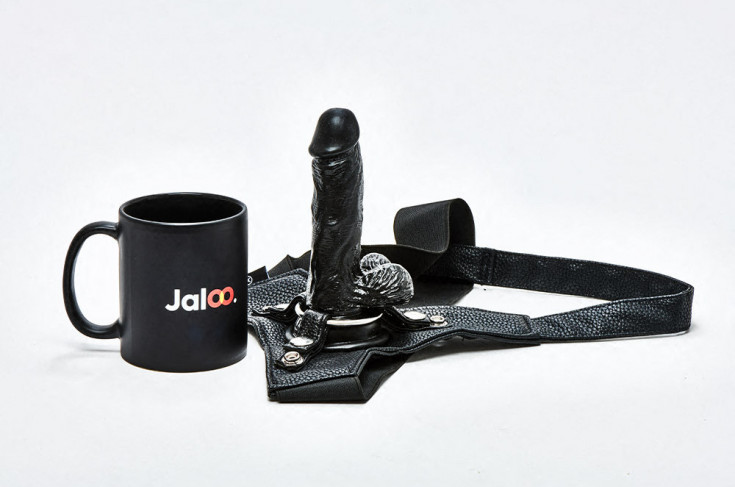 It can be used by couples, worn by women planning to have control over their partner. Indeed, nothing is more exciting than pegging for a man, especially if he tends to be submissive or even worse who is a too self-confident Alpha male. To be taken by a woman who gives the movements she wishes in his anus, reaching the P point. In that very case, the woman is the one who masters the frequency, strength and depth of the penetration. And this without the common limits of a male sex as regards the duration of his erection. A strap-on dildo is a silicone penis indeed but silicone with a hard-on 24/7!
Another man, whether straight or not, can also wear a strap-on. He'll then be able to have it both ways. That of domination by using the exceptional duration of this dido's erection to penetrate over and over again the vagina or anus of his sexual partner.
Those enjoying games of humiliation will be delighted to make the submissive suck the strap-on. They will also use the power of the permanent erection of this cock to make the submissive prove his/her devotion to an artificial penis.
How to use a strap-on?
Different versions exist, hollow to insert your penis or not, vibrating, for double penetration. But what they have in common is to be worn around the waist with straps, usually black leather strapon. You have to wear the strap of the harness around your waist as a belt and place the penis if it's removable. The designers of these realistic-looking toys have developed a standard assembly. For standard inch size versions, there's a screw pitch into which the artificial penis will be screwed. Models with a larger diameter or longer ones use a clamp on a metal rod.
The fixing mode doesn't matter much as the use remains the same in all cases.
Instructions for use:
Put the harness of the strap-on around your waist
Roll down the condom on the dildo, as well as on your cock if you want double penetration sex
Add lubricate – or not, according to your tastes and use – to the strap-on. Only use a water-based lube in order not to damage the silicone texture of the sex toy
Play with it like a man, whatever your genre
What strap-on should I use for anal or vaginal sex?
In any case, choose a model that's phthalate-free. Sextoys used to contain a lot of chemical products a few years back until a major part of these phthalates (DEHP, DBP, BBP, DDP, DNP, DNOP) was prohibited at the beginning of the 2000s. Today, no strap-on nor any other sex toy must contain phthalates that are potentially carcinogenic or reprotoxic.
This reprotoxicity beats everything in the field of sex toys.
There are also hollow strap-ons to allow the active male to insert his penis while enjoying the pleasure of penetration: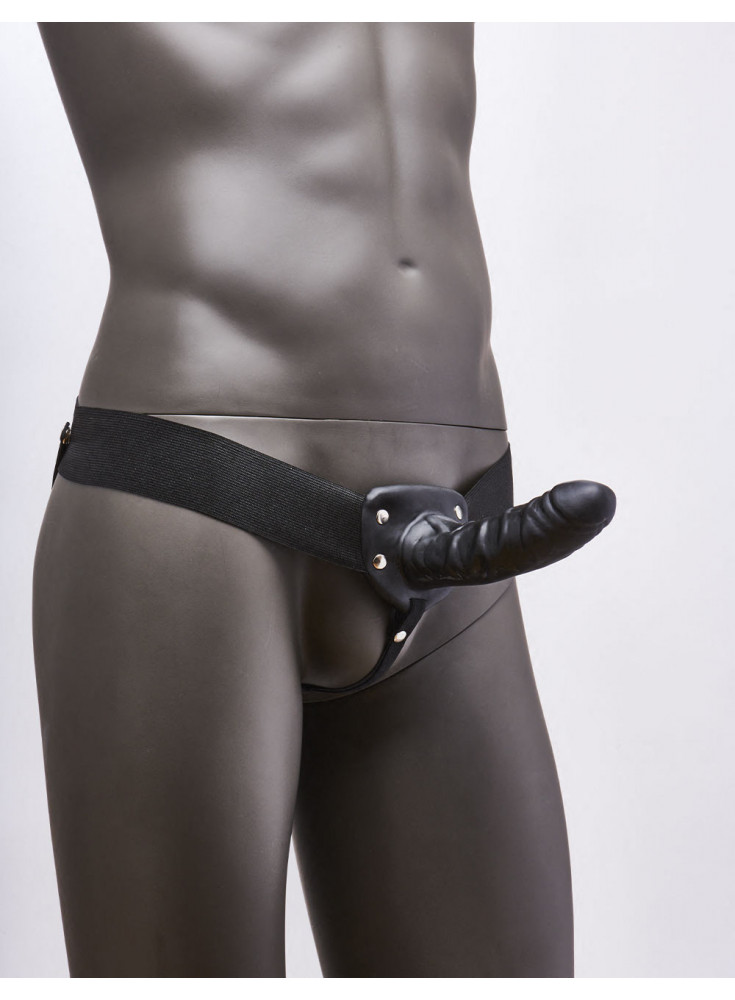 Some models have double penises, one for the active one and the other for the passive one to give simultaneous waves of pleasure. Those strap-ons with two penises which make double penetration possible.

Colours being almost limitless, only your tastes – whether good or not, we're not here to judge – will be essential in the choice of your strap-on.
Clever, some of these sex toys have a suction cup at their base which allows you to fix them on a tiled floor for a solo session of anal sex: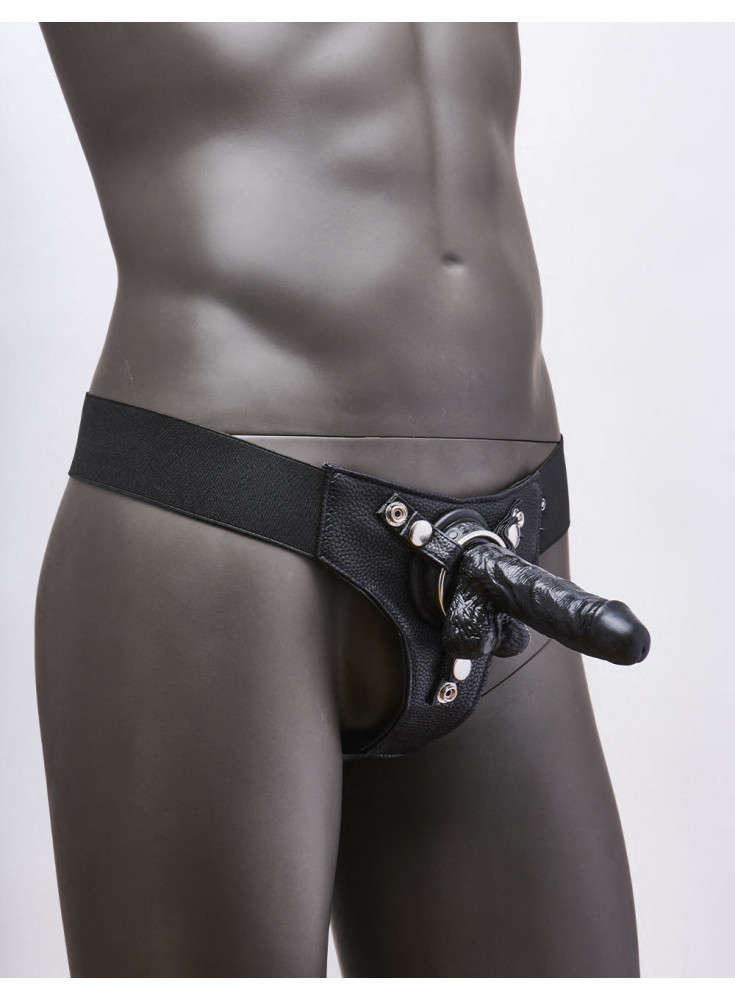 Then, according to the practices you want to have, let's talk about the dimensions of the dildo itself. Not only will they have a major impact on the use of the strap-on (more or less easy penetration) but they will have consequences on its weight and thus on the comfort of the partner wearing it. Because, you may not have noticed it, but a cock has a weight. Indeed ladies, the thing between a man's legs can weigh up to 300 grammes while it's standing at attention!
We won't go as far as saying that it could give you backaches but the harness and strap have to be of good quality to enable the motions of the active partner's pelvis to have an effect on this type of sex and into the passive partner!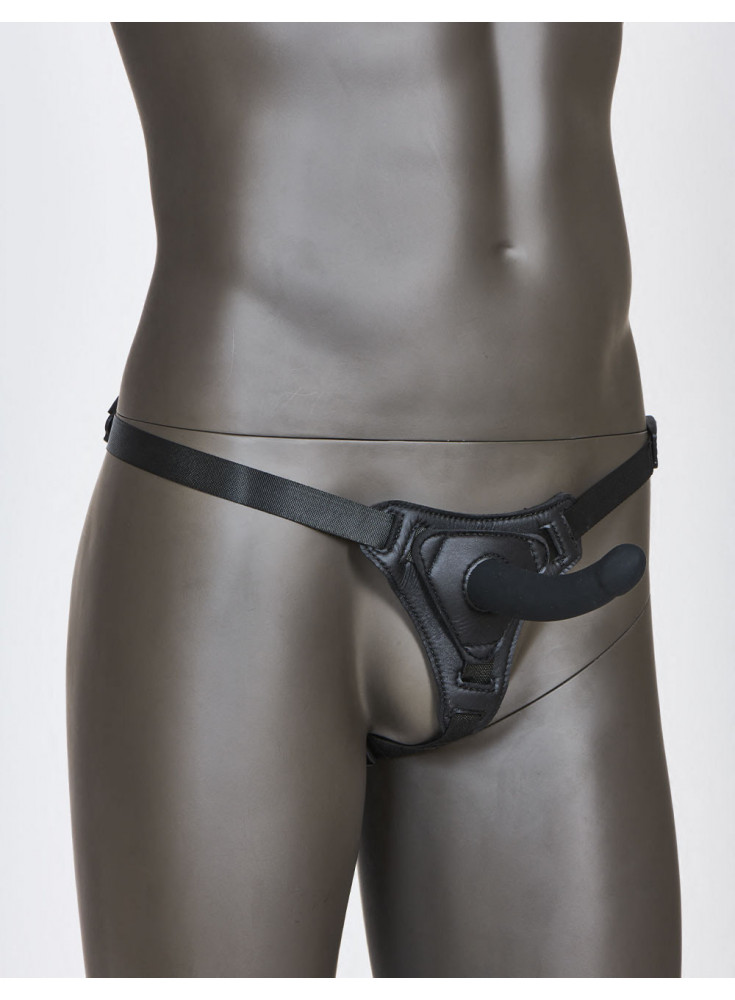 Exotic vibrators models
Some models of strap-ons have advanced or funny possibilities:
Some of them add the vibrating stimulation to the active person / passive person
Other models have 2 penises. One for the active partner and one for the passive partner to give two simultaneous waves of pleasure
Some strap-ons have an ejaculation mode to go deeper into reality. An ideal solution for humiliation and to show the submissive who's in command!
Double penetration is made possible by some strap-ons that have 2 penises.
Colours being almost limitless, choose your strap-on according to your wishes. Even if most harnesses are black and made of leather with a silicone cock.
Think about the diameter of the dildo that goes with the strap-on. If too modest, it will tend to slip out of the orifices of the passive partner. If the diameter is too large, it will be uncomfortable for your body or even hurtful.
Clever, some of these sex toys have a suction cup at their base which allows you to fix them on a tiled floor for a solo session of anal sex.
Price of a Strap-On
Regarding the price, they range from 15 to 30 Euros for the quality set that will accompany you for long moments of sex with your partner. Under 10 Euros, you run the risk of being delivered a strap-on of poor quality that won't give you pleasant use. However, if you buy a strap-on for over 50 Euros, you'll get a luxury product that can be made of glass or a realistic vibrating cock with remote control and is waterproof.
Likewise, for women, some dildos have a vibrating device. Which can be with spikes that will be in contact with their clitoris to stimulate it at each movement. Or some are strapless and are made to be inserted into the vagina. The waves of pleasure are then matched with the back-and-forth movements inside the partner.
Don't forget to clean the vibrator and the strap-on after use
Finally, as for any other types of sex toys – anal or not – for men or women, vibrating or cuming. Clean immediately after using your toy with water and soap once you have got a grip on yourself. Rinse it with clear water and wipe thoroughly the silicone of your sex toys which doesn't like staying wet for a long time.
Clean the leather harness/strap with soap and water too to remove any stains of lube or else.
Otherwise, remember to choose a cleaning product for vibrators that will enable you to keep the initial quality and hygiene of your sex toy.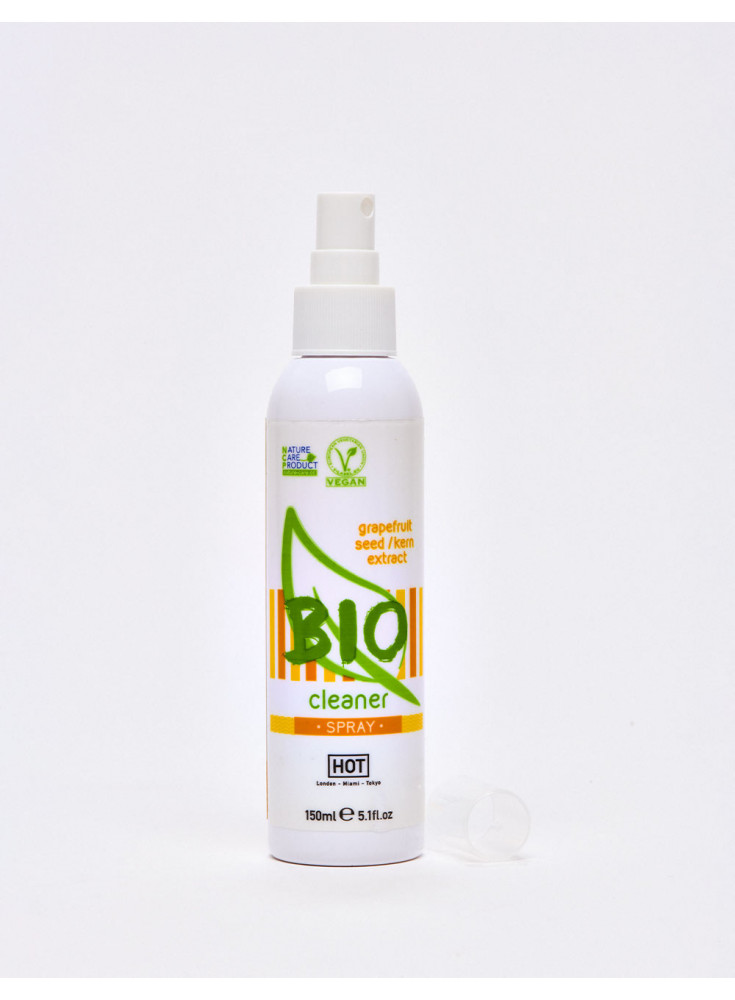 For the men or women who chose a model with a suction cup, it's essential to remove anything that could damage the depression of the base of this dildo. Also, clean with a product containing soapy water to allow the suction cup to remain stuck to its surface and not to slide the next time you use your sex toy.
Last but not least, clean the remote control and all the other accessories that go with the realistic sex toy. For instance, clean the tube of lubricant that you may have inadvertently dirtied while playing.
Another tip for after playing. It can be highly efficient to increase your domination by asking your submissive partner to clean all the sex toys used during the BDSM session. Thus, as in Fifty Shades of Grey, the man or woman who has experienced the pleasure of your strap-on will have to clean this anal stimulator.
Remove the batteries from the vibrating models to avoid any leaks. Indeed, the batteries of these vibrating models will tend to deteriorate faster if you don't use them frequently. You will enjoy this purchase longer and with more serenity for the gentleman's or lady's pleasure.
To preserve the environment, don't hesitate to choose a rechargeable vibrating dildo. Bear this in mind during your purchase, the pleasure had with this anal stimulator won't lose in reality for a few more Euros.
Now that everything is clean and in order, keep it in your secret drawer, away from the light… and nosey people!
By the way, last piece of advice. When dealing with anal sex, make sure you put on a condom on the dildo of this strap-on. Also, make sure that you haven't cleaned the condom but the dong itself. It would be such a pity to have the silicone damaged by the latex of the condom.