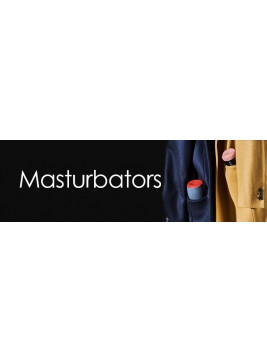 A masturbator is an unavoidable accessory in the range of sextoys. It gives vibrating and enjoyable pleasure. Our customers often choose this accessory as it offers many surprises and functionalities.
Pleasure on your own or with a partner.
This accessory is realistic and ultra-resistant and was designed for everybody no matter what your sexuality is. The traditional masturbator for males is very convenient and some models are made to be used over and over again. Other models are ultra sophisticated with a refined design while others are connected masturbators that can be activated remotely via your smartphone either by you or your partner to give you extraordinary sensations and the best orgasms. This makes it the best naughty present to treat yourself or to offer to your partner.
A strong and transportable sextoy 
This type of sextoy is easy to carry and suits anybody wishing to experience different kinds of pleasure. The masturbator for males is an accessory that incites you to have sexual games with your partner. Vibrating masturbators have fast and ultra-powerful motors to give their users many different vibrations and speeds. These vibration modes can make your orgasms easier and will give you many continuous stimulations. Inserting your penis inside the masturbator is easy as well as enjoying its benefits. If you're looking for this kind of sensation, choose the masturbator that suits you among our wide choice of models on Jaloo. 
A combination of unique sensations
Some masturbators for males make the back-and-forth movements easier for your utmost pleasure. It's a combination of pleasure and happiness that you will experience either alone or with your partner. Then to feel as much pleasure as possible, you just need to change the positions to simulate an anal or vaginal penetration. This accessory is 100% designed to please you.
A powerful and reusable toy
You can also choose an electrical masturbator to enjoy pure bliss in a comfy place. This type of masturbator is realistic and gives you a 360-degree stimulation of your penis. You can also order realistic masturbators on our site. Their ends have the shape of a vagina (pocket vagina), an anus or a mouth for intense ejaculations. They're all very affordable and will make you feel like in real life. If you wish to have more realistic-looking pocket vaginas, we have models with a skin tone. Jaloo will advise you if you're still hesitating about the perfect toy for you or your partner.