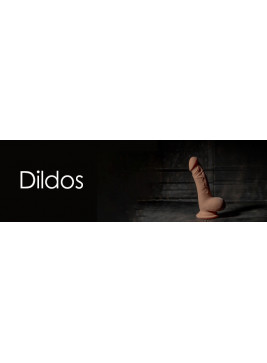 Dildos for men are quality objects for males, for those wishing to experience a special and regular form of pleasure. They give different sensations each time you use them whether you're on your own or with a partner. When we ask our clients what they'd like to buy first, dildos are often their first answer.
Resistant and washable tools 
Dildos for males enable you to discover and above all to appreciate anal pleasure. You'll find different kinds on our site: double dildos, XL dildos, realistic dildos, vibrating dildos or dildos with a suction cup. A toy like a dildo enables you to stimulate erogenous zones and also your prostate. These prostate stimulators, also named P spots, are available on Jaloo and will give you sensations different from what you have experienced before. They will certainly give you as much pleasure as ejaculating. They are all washable and resistant and will become the perfect accessories to have a good time alone or with a partner. They're also easy to carry and to take away if you decide to travel. Dildos can satisfy you regularly or on particular occasions, as you wish. Masturbating can be done alone or with a partner according to your wishes too.
An almost perfect replica of a penis
Looking like an artificial penis, this type of dildo is an almost perfect replica of a penis. Several models have a suction cup to put them on a flat surface and facilitate their use. Prices can vary with the length of the dildo (from a normal penis to an XL model up to 50 cm long). You'll find different colours and materials. For example, we have flesh looking, pink or black models. Dildos are often vibrating to give you optimal pleasure. Their width and length depend on the model that you'll choose as well as on your wishes. The larger the dildo, the better it will you. Dildos for men are very often waterproof so that you can test them in the water, in your shower or in your bathtub for example.
A flexible and realistic accessory
You may also find strap-ons on Jaloo. They can be used either by men or women and will enable you to share unique moments. Talking about realistic toys, you have to know that all the dildos sold on Jaloo are identical to the texture of a penis with its glans, testicles and veins in order to give you the best pleasure you can have. Our recommendation for you is to buy lubricants to increase your sensations softly and facilitate penetration.  This flexible type of sex toy will increase your pleasure smoothly and will give you intense orgasms each time you use it.
A sex toy soft to the touch
This pleasurable accessory soft to the touch will enable you to relax and begin foreplay more easily or take you to sexual games with your partner. It can be used by all men who think that their penis is too small and it will certainly give your partner more pleasure as well as more self-confidence. As you can understand, this erotic and sexy toy is essential to stimulate your genitals. So, gentlemen, don't hesitate any longer and buy your dildo on Jaloo. Indulge yourself and familiarize yourself with it!