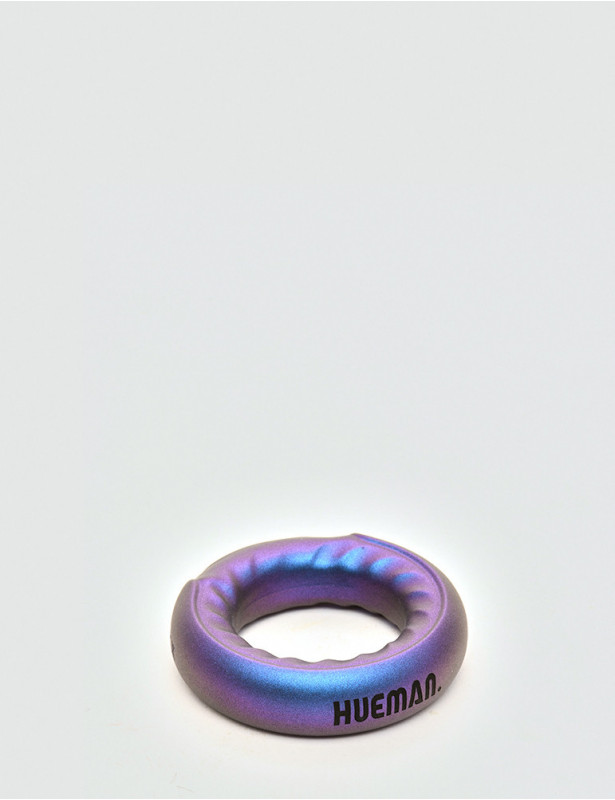  
Vibrating Cock & Ball Ring - Hueman - Saturn
Saturn is the new vibrating cock and testicle ring from Hueman. This accessory will give you an intense stimulation thanks to its restrictive effect on the blood flow of your penis, causing a greater sensitivity to the touch and allowing your erection to be harder.
The Saturn cock ring has 3 speed settings and 7 vibration modes so you can choose the rhythm of your orgasms. Its silicone material makes it very comfortable to wear, as well as being safe for your skin. This erotic accessory is rechargeable via USB cable (included) and is waterproof, so you can use it in the shower, bathtub or swimming pool. 
We recommend cleaning your cock ring with an erotic toy cleaner and rinsing it with lukewarm water.
Operating time: 50 min.
Inner diameter: 4.70cm | 1.9 inch
Dimensions: 2.20 x 8.50cm | 3.3 x 0.9 inch
Silicone non-flexible
Features of the Saturn vibrating cock & ball ring by Hueman
Vibrating ring for penis and testicles
3 vibration speeds and 7 patterns
Waterproof
USB rechargeable
Inner diameter: 4.70cm | 1.9 inch
Dimensions: 2.20 x 8.50cm | 3.3 x 0.9 inch
Data sheet
Color

Purple

Flexible Material

No

Minimum diameter

More than 40mm

Material

ABS
Silicone

Charge mode

USB

Waterproof

Yes

Electronic

Vibrating
| | |
| --- | --- |
| | Home delivery - EMS Network Express Mail : Delivery scheduled between the 2022-12-10 and 2022-12-13 |
Other products in the same category :
Vibrating Cock Ring - Xerus - Silicone

Vibrating Plug & Cock Ring - Pack Ibex Men-X - Rocks Off

Saturn is the new vibrating cock and testicle ring from Hueman. This accessory will give you an intense stimulation thanks to its restrictive effect on the blood flow of your penis, causing a greater sensitivity to the touch and allowing your erection to be harder.

 

The Saturn cock ring has 3 speed settings and 7 vibration modes so you can choose the rhythm of your orgasms. Its silicone material makes it very comfortable to wear, as well as being safe for your skin. This erotic accessory is rechargeable via USB cable (included) and is waterproof, so you can use it in the shower, bathtub or swimming pool. 

 

We recommend cleaning your cock ring with an erotic toy cleaner and rinsing it with lukewarm water.

  

Operating time: 50 min.
Inner diameter: 4.70cm | 1.9 inch
Dimensions: 2.20 x 8.50cm | 3.3 x 0.9 inch
Silicone non-flexible