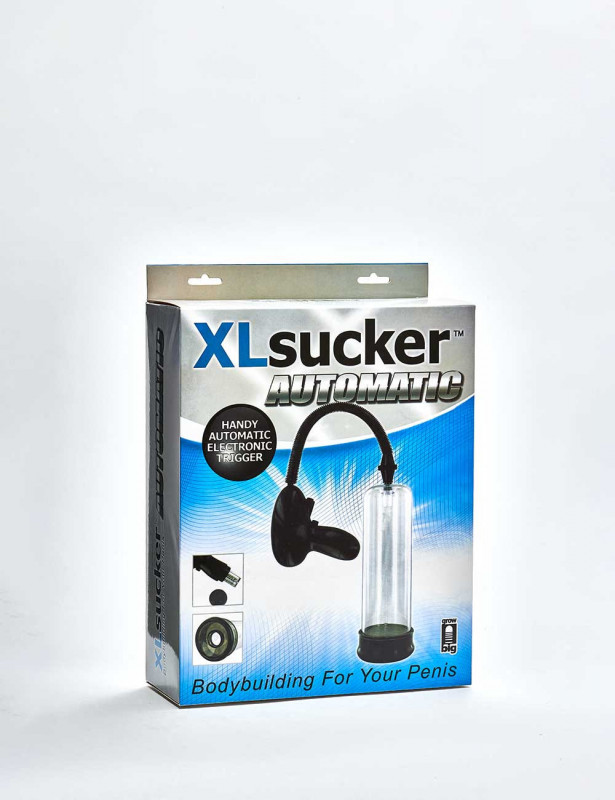  
Penis Pump - XLsucker - Automatic
The automatic penis pump (electronic trigger) makes it possible to obtain a larger penis that will stay erect for much longer. A plastic cylinder, that adapts to all penis sizes and works by suction, is used. The blood will flow to the penis, this will give the desired effect: a bigger penis (length and girth) and a longer-lasting erection.

 
Using this penis extender is simple. First, apply water lubricant to the base of the pump. This is important in order to create suction. Then, insert your penis (not testicles) into the cylinder, then squeeze the pump. Just a few minutes are enough!
You'll soon find out that the thrills are even more intense during masturbation or sexual intercourse either with one or more partners.

 
Measurements are indicated on the cylinder of the pump, in order to inform you of the gain in size obtained with this penis developer.

   
It is absolutely necessary to stop pumping when it becomes painful. A button is provided that releases the air pressure.
This penis extender functions on 4 AAA batteries (not included). It is made using TPE et ABS plastic. 
Features of XLsucker's Automatic Penis Pump - Transparent
Enlarges the penis and prolongs erection
Automatic electronic triggering
Suitable for all sizes
Integrated button to release pressure
Functions on 4 AAA batteries (not included)
Made of TPE and ABS plastic
Other products in the same category :