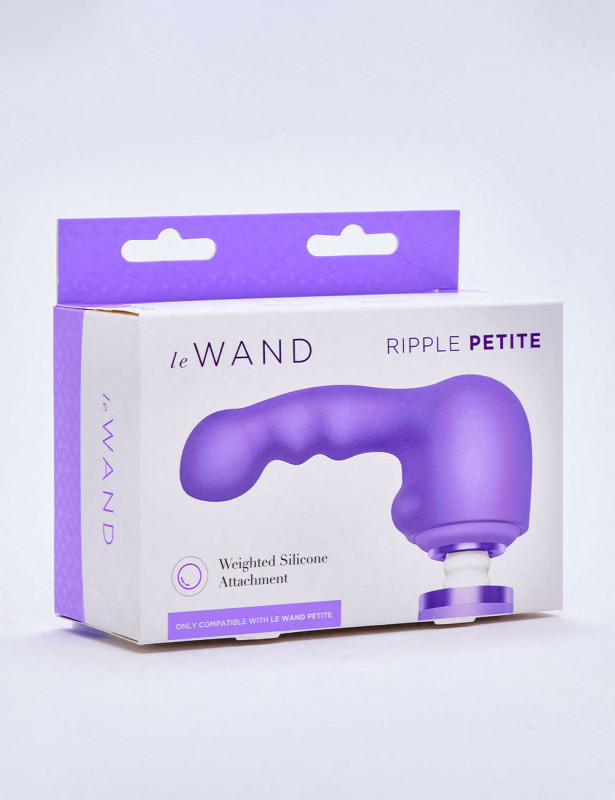  
Le Wand Vibrator Accessory - Ripple Petite
Ripple petite. This accessory is only compatible with the Le Wand Petite vibrator. With its creative design, this sex toy for women guarantees targeted stimulation both internally and externally. This accessory will help you experience intense vaginal pleasure thanks to its ribbed outer shell and 3 integrated weights. A ball placed at the base of the accessory will also massage your clitoris to heighten the intensity of your orgasm. All of Le Wand accessories are made of soft, silky, easy-to-clean silicone.
Do not use this vibrator accessory with a silicone-based lubricant.


1 weight in the tip et 2 weights in the central zone 
Insertion length: 8.2 cm
Maximum diameter: 2.9 cm
More about Le Wand Petite Vibrator Accessory - Ripple Petite
Brand: Le Wand 
Material: 100% Body-Safe Silicone
Colour: Purple 
Insertion length: 82 mm
Maximum diameter: 29 mm
Only compatible with the Le Wand Petite vibrator. 
| | |
| --- | --- |
| | Home delivery - EMS Network Express Mail : Delivery scheduled between the 03/06/2023 and 06/06/2023 |
Other products in the same category :
Vibrator Le Wand Original Pearl - White

Le Wand Petite Vibrator Accessories Pack - Le Wand Covers - Silicone

Ripple petite. This accessory is only compatible with the Le Wand Petite vibrator. With its creative design, this sex toy for women guarantees targeted stimulation both internally and externally. This accessory will help you experience intense vaginal pleasure thanks to its ribbed outer shell and 3 integrated weights. A ball placed at the base of the accessory will also massage your clitoris to heighten the intensity of your orgasm. All of Le Wand accessories are made of soft, silky, easy-to-clean silicone.

Do not use this vibrator accessory with a silicone-based lubricant.



1 weight in the tip et 2 weights in the central zone 
Insertion length: 8.2 cm
Maximum diameter: 2.9 cm