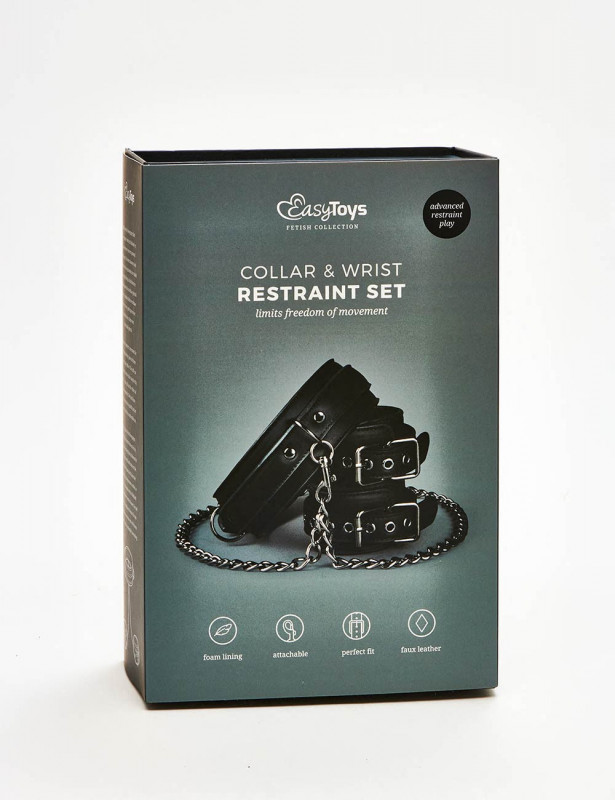  
Handcuffs & Collar BDSM - EasyToys - Leather - Black
Submissive or dominant, choose your role and then swap places with your partner as you wish! This leather collar with its handcuffs by Easytoys will complete your collection of BDSM accessories! Thanks to the fastening clips you can easily detach the collar and handcuffs depending on your mood.

The imitation leather is hardwearing and will allow you to reuse the BDSM collar and handcuffs over and over again. The foam interior makes these bondage accessories very comfortable. Two 40 cm chains enhance the experience.
The BDSM handcuffs and collar are suitable for all body types: the collar is adjustable (45-58 cm), just like the handcuffs (11-28 cm). This way you or your partner can decide how much compression you want.

Do not hesitate to use additional bondage accessories for more realism: hood, nipple clamps, ballgag...
Specifications about Handcuffs and Collar BDSM - EasyToys - Leather - Black
Material: PU Leather, Metal
Weight: 823g
Completes the BDSM range
Accessories that can be used independently of each other
Foam interior for more comfort
Two 40 cm chains to link the two accessories
Collar (45-58 cm) and adjustable handcuffs (11-28 cm)
Other products in the same category :